Saffron – The Red Gold of Morocco
Saffron – known as Red Gold – is one of the most expensive spices in the world by weight.  This spice derived from a small purple crocus ( Crocus sativus or the "saffron crocus") gives a rich golden-yellow hue to Moroccan dishes. It is so costly because each flower has only three stigmas, which have to be carefully hand-picked and dried, resulting in the saffron threads we find on sale in airtight glass jars in shops and supermarkets. It is a laborious process, and it takes over 14,000 of tiny stigmas to create an ounce of saffron. Fortunately, a little goes a long way. The vivid crimson threads are used mainly for seasoning and colouring food, dyeing textiles and medicinal purposes. Fans say saffron has a subtle earthy-sweet flavour with a hint of bitterness on the tongue that gives way to delicate floral and honey notes. Saffron is one of Morocco's leading exports; grown in Taliouine, a little mountain village in the south of Morocco, and the Ourika Valley at the foot of the Atlas Mountains near Marrakech; then harvested in late October or early November, and sold in the souks and spice markets throughout the country. A small pinch adds strong colour, scent, and flavour. It is believed that saffron originated in Iran, and the Arabs introduced saffron to Morocco around the 10th century. But you'll also find it in the Milanese risotto of Italy, the paella of Spain, the bouillabaisse of France, and the biryani of South Asia.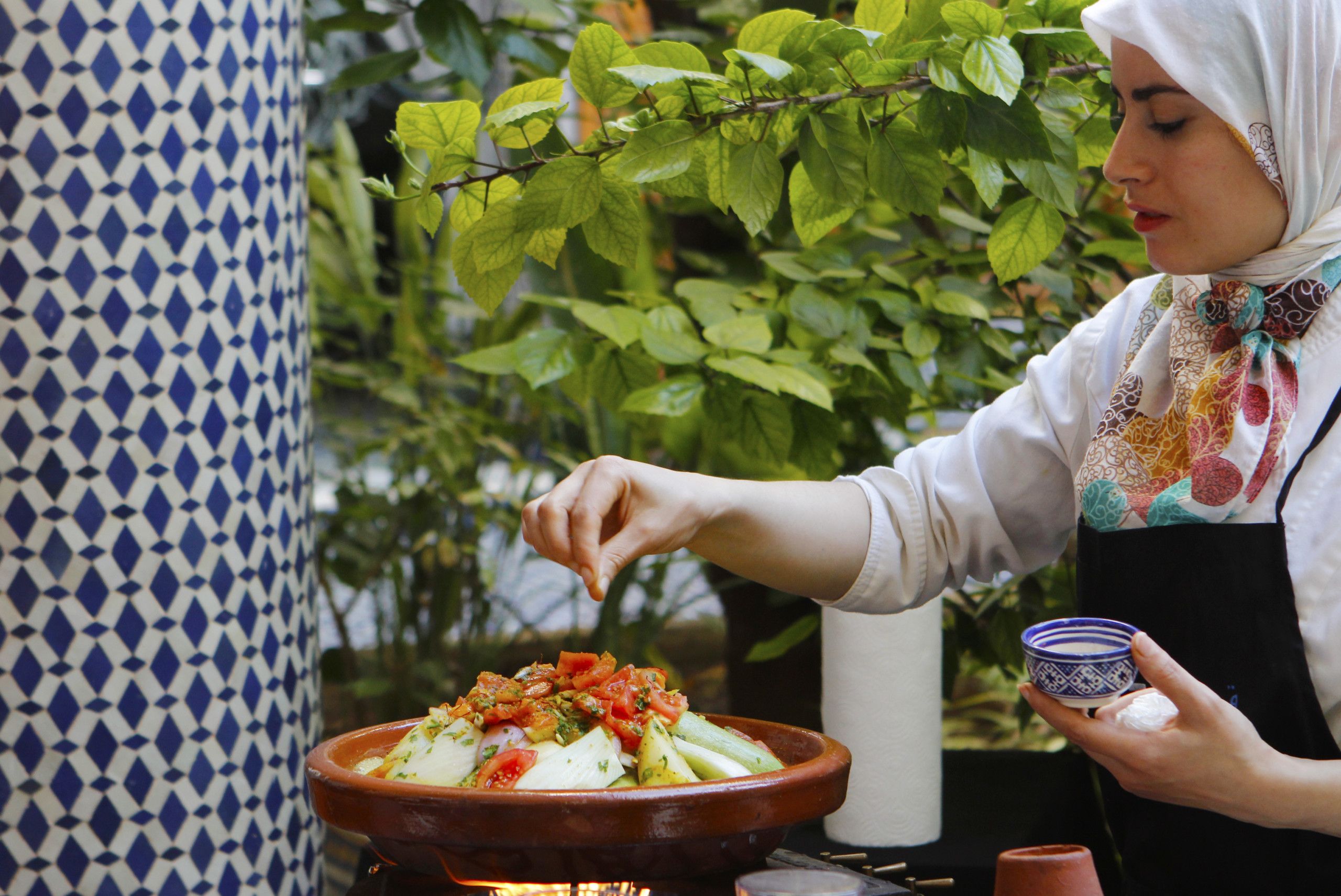 At our Fez Cooking School, you can learn to cook with saffron and create typical Moroccan dishes such as chicken tagine medfouna; a tender, fragrant dish made with shredded saffron, chicken and vermicelli, and djaj mqualli (chicken, preserved lemon and olives tagine). Saffron is also a key element in the Moroccan marinade, chermoula and couscous; while desserts such as vanilla, custards and cookies can also be given extra kick with saffron. There are so many uses for this mighty, red-gold spice.