You can find all kinds of street food day and night across Morocco – and Fez is no exception. Here, we explore the best street food in the city. Twisting your way through the beautiful narrow alleyways and the sense sensation of the souks, you will be visiting different places to tickle your taste buds, where you'll get the opportunity to try a delicious list of local delicacies that is almost endless! Morocco's culinary offerings vary from grilled meat and delicious soups to light snacks and fried fish to tasty pastries and incredible juices.
You can find all of these delicacies in five-star restaurants. However, if you want to have an authentic and one-of-a-kind experience then you should look for them in the traditional streets or souks of Morocco.
Here is a list of must-try Moroccan Street Food in Fez Medina:
1. Marinated Olives:
Sampling olives and collecting olive recipes is a big part of the Moroccan culture. The olive options in Morocco are incredible. They range from spicy to sour. Shopkeepers proudly display their products in enormous tubs and eagerly offer samples to those who ask. These are the main olive flavors you will find in every Moroccan Shop.
Lemon-cured olives: Lemon juice is used to brine the olives and give them a citrus taste.
Green olives: Basic, mild green olives.
Harissa olives: Olives are mixed with harissa and fresh herbs. Pickled carrots and turnip are placed on top.
Black olives: Basic, mild dry black olives.
You will also find Harissa: which is a paste made from paprika, garlic, olive oil, and smoked chili peppers. The condiment is used in Northern African cuisine. There are variations according to each country.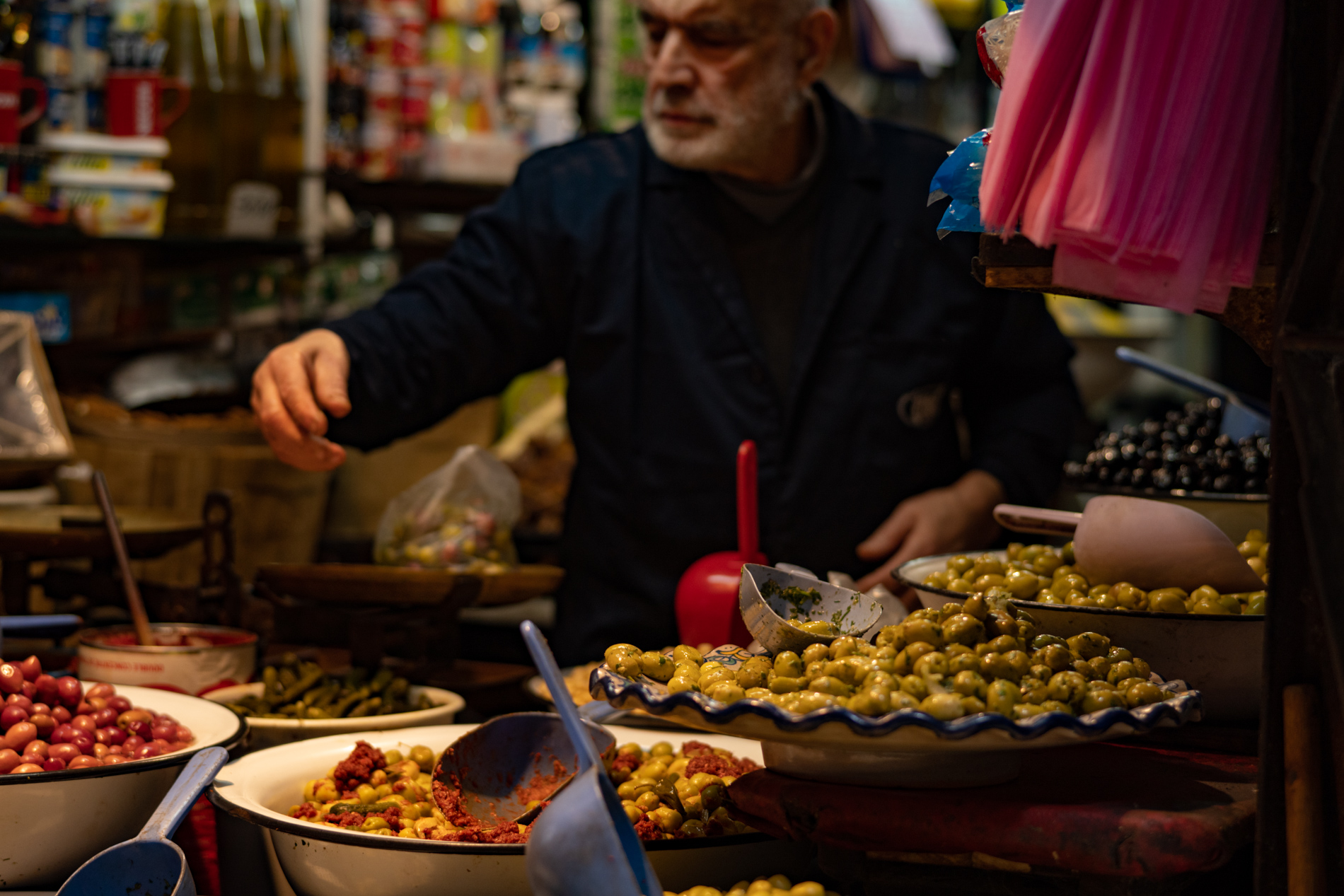 2. Chebbakia:
Halwa Chebakia  is a sweet cookie made by folding dough into a flower shape, frying the shaped dough, and then dipping the cookies in hot honey that's been flavored with orange flower water.
In Ramadan, when chebakia is especially popular, many Moroccans enjoy the sticky-sweet cookies alongside a bowl of harira soup while breaking their fast.
3. Almond Briouates:
 Almond Briouats are traditional Moroccan pastries filled with almond paste and coated with honey. They're popular year-round as a teatime and special occasion treat, and are one of the iconic Moroccan pastries which visitors to Morocco will be likely to try.
They're also very popular in Ramadan. In the days leading up to the month of fasting, many families make large batches of the almond briouats, which will be served throughout the month alongside other traditional sweets such as chebakia and sellou.
4. Babouch: Moroccan Snails Soup
Particularly popular in Fez, snails can be found everywhere in the Medina. This flavoursome broth is supposed to have restorative and digestive benefits. This is almost reason enough to try it. If that weren't tempting enough, however, these snails are tender with a delicious savoury taste. What's more, they are served in a broth bursting with flavours and spices.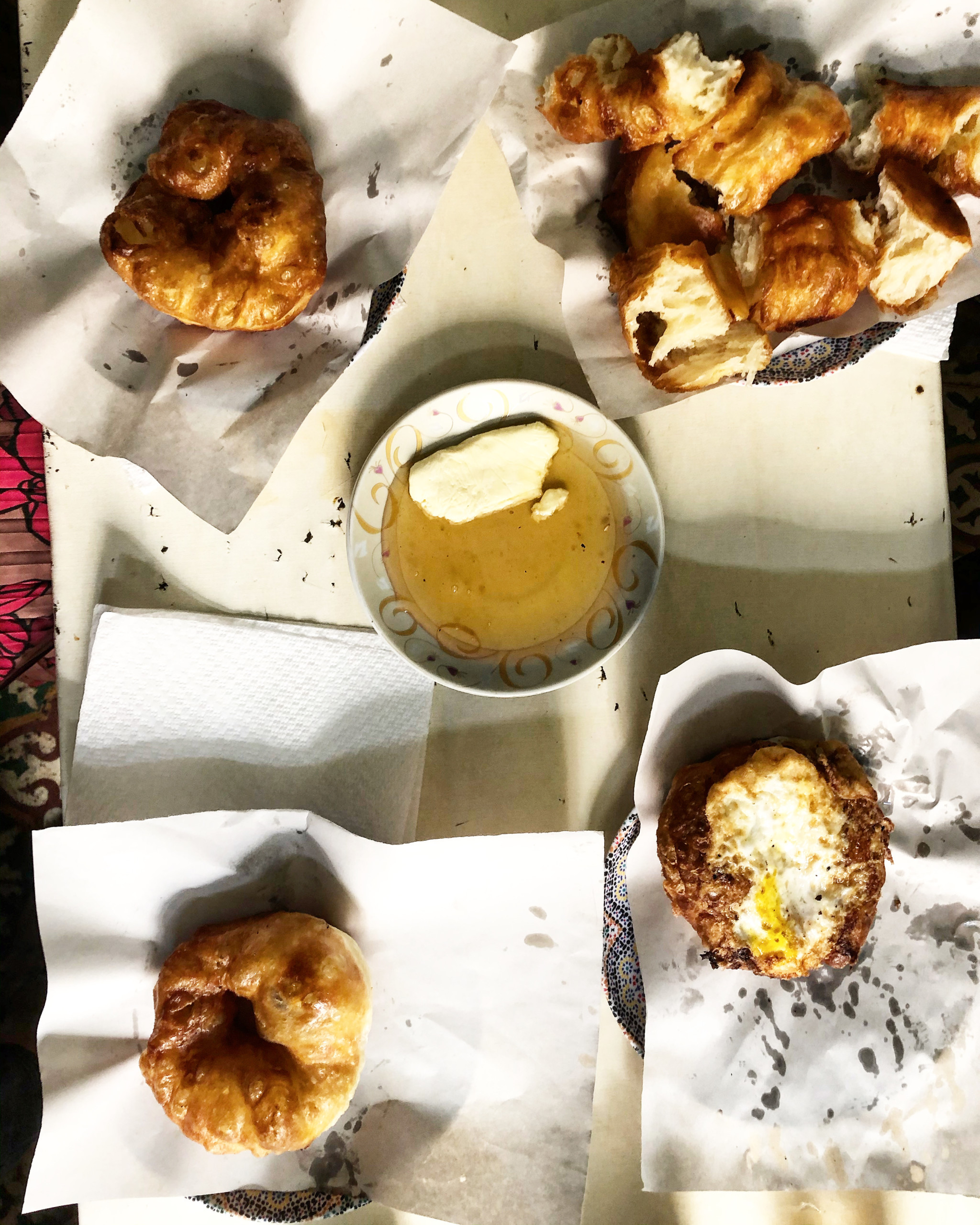 5. Sfenj:
Sfenj Moroccan Doughnuts are a Moroccan Jewish delicacy made of unsweetened and fluffy dough. Once it has risen, handfuls of dough are shaped into rings and deep-fried until golden. Moroccan Sfenj should certainly be crispy from the outside with a chewy, fluffy interior. These little Moroccan delights are not only served just on Hanukkah but year-round, making the perfect Sunday morning treat. 
6. Ma'akouda
A flavoured Moroccan version of fried potato patties, known as maakouda, is best served by itself or inside a sandwich. Most famous in Fez, the fried treat is made of simple ingredients: potato, flour, eggs, herbs and spices.
After achieving a mashed potato consistency, the potato patties are fried which results in a crispy, golden crust on the outside while the inside remains hot and mushy.
7. Moroccan Bread: Khobz
Nothing can beat a fresh baked bread coming straight out of the oven with some melting butter inside and pure honey, paired with a hot steaming cup of mint tea… When it comes to Moroccan cuisine, bread is an absolute must-have. From soaking up stews to ditching the need for a fork, you'll find there's a different type of bread perfect for every and any meal.
8. KhLii:
Khlii is a confit of Moroccan preserved meat. It's traditionally prepared by the long, slow simmering of cured, dried meat called gueddid in olive oil and suet. The resulting confit will store safely for months on end, if not for a year or two, at room temperature. You can buy khlii in many Moroccan stores and prepare a delicious breakfast at home!
9. Nougat:
Nougat is a candy that comes in many shapes, colors, and flavors. If you visit Fez' maze-like medina you are bound to find an abundance of colorful pyramids of nougat in food stalls on almost every corner.
The tasty dessert is made with sugar, egg whites, and different nuts. You can find walnut, almond, or peanut nougat in various colors: Pink, green, blue, yellow, black, or white. This sweet little piece of hapiness is also a sacred Moroccan sweet referring to the founder of The Fez Medina.
10. Mint Tea
Last but not least, nicknamed 'Moroccan whiskey', the country's most omnipresent beverage might not get you hammered but it's just as moreish. Brewed with fresh mint, the trick is to mix it several times – pouring the famous Mint Tea from kettle to cup and back again to really muddle the flavours. Drink it for breakfast, drink it with dinner but just don't make the mistake of thinking you're being healthy: there's about half a pound of sugar in each batch.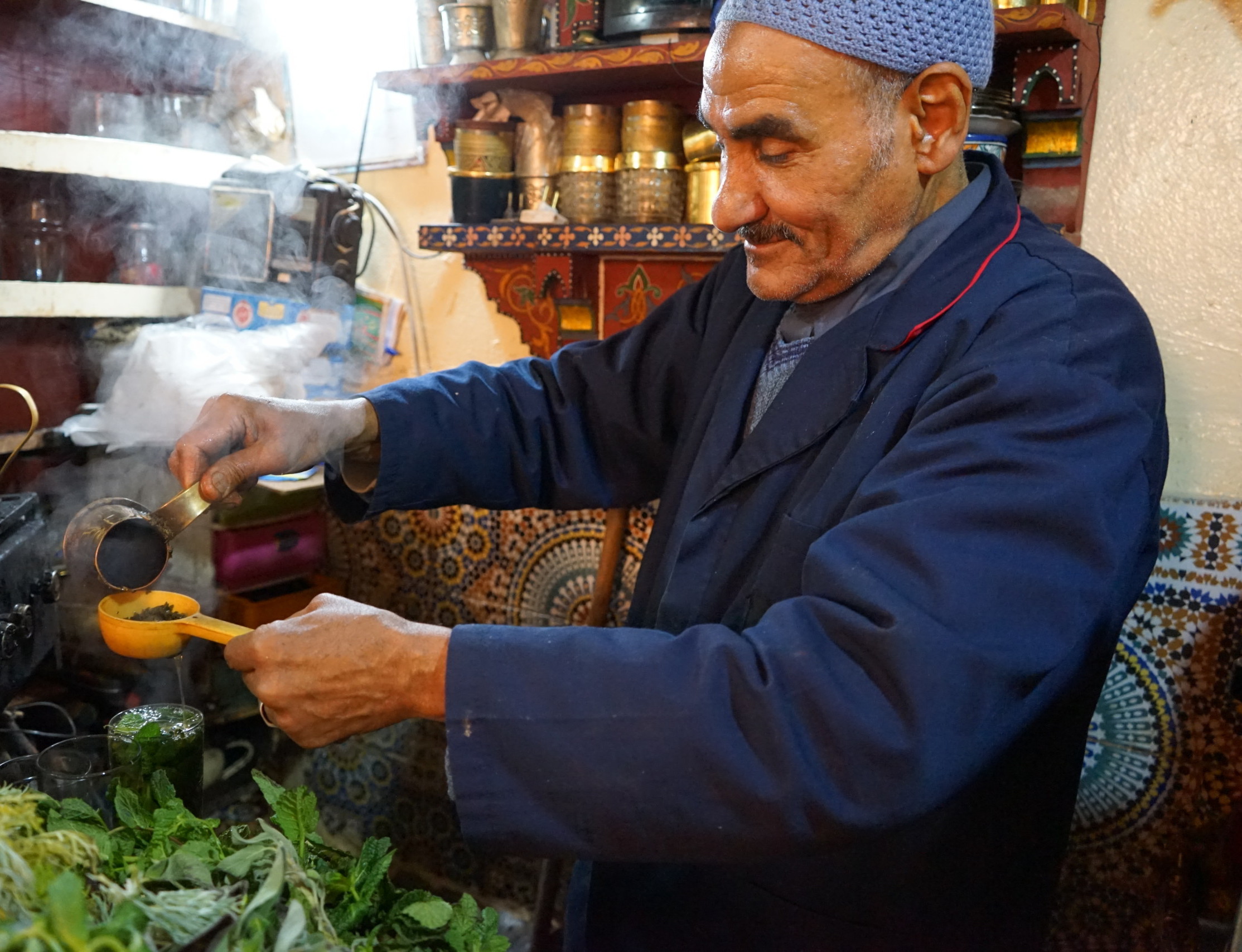 Enjoy traditional Moroccan street food during our tour in the Medina souk on our tour into the bustling Medina of Fes with your experienced, English speaking culinary expert with our Fez Cooking School team!
Loubna El-Bouchikhi
Experience Coordinator at Palais Amani & Fez Cooking School