Sfenj Moroccan Doughnuts
Sfenj Moroccan Doughnuts are a Moroccan Jewish delicacy made of unsweetened and fluffy dough. Once it has risen, handfuls of dough are shaped into rings and deep-fried until golden. Moroccan Sfenj should certainly be crispy from the outside with a chewy, fluffy interior.
These little Moroccan delights are not only served just on Hanukkah but year-round, making the perfect Sunday morning treat.  So please go ahead and celebrate your Hanukkah with a Moroccan twist and make a luscious batch of sfenj!
Ingredients:
2 teaspoons yeast
1 1/4 cups warm water (divided)
3 cups all-purpose flour
1 teaspoon salt
Vegetable oil for frying
Optional: Granulated sugar or powdered sugar or Jam for decoration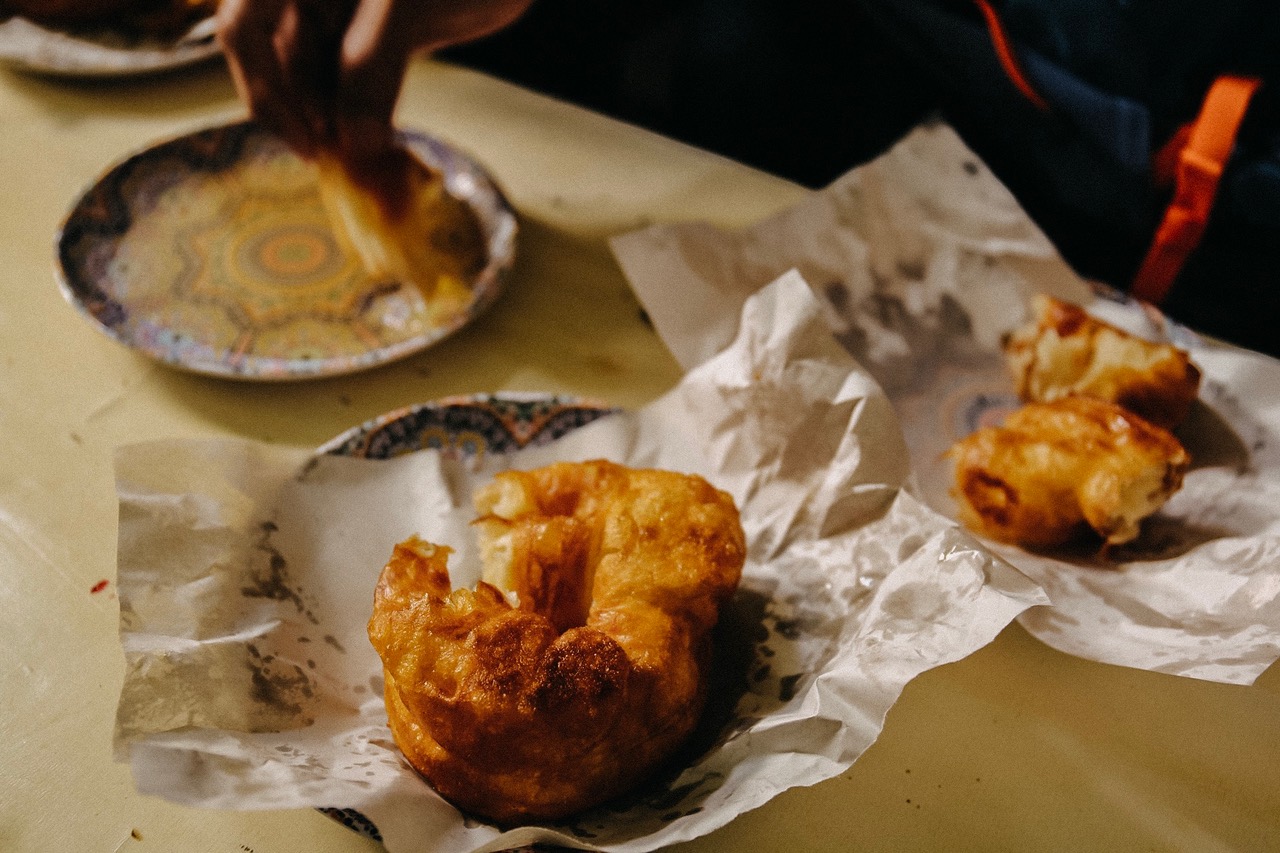 Method:
In a bowl, activate the dry yeast by adding the 1/4 cup warm water. Then, set aside 15 minutes.
In a large bowl, add the flour with the salt and 1 cup warm water. Combine the yeast mixture then stir until smooth. You should obtain a very sticky dough. If the dough is not sticky add a few tablespoons of water until you obtain the right consistency.
Cover the bowl with a towel and leave the dough to rise for more than 3 hours.
In a deep pot, heat the vegetable oil over medium heat until hot.
Dip your hands in a bit of water, then pull off a piece of dough about the size of a small plum. Use your fingers to make a hole in the ball of dough, stretch the hole wide to make a ring.
Place your dough in the hot oil. Repeat with additional portions of dough, until you've added as many sfenj as will fit comfortably in your pot.
Fry the sfenj until golden brown, turning once or twice. Then, remove to a plate lined with paper towels to drain.
Notes:
If desired, finish the hot sfenj by dipping in granulated sugar or by dusting with powdered sugar.
Wet your hands as necessary to keep the dough from sticking as you work with it.
Loubna El Bouchikhi,
Experience Coordinator at Palais Amani