Moroccan Chicken Rfissa:
Moroccan Chicken Rfissa; A fabulous Moroccan dish of stewed chicken, lentils and onions served on a bed of shredded Msemen, trid pastry or bread. A fragrantly seasoned broth is poured over all.
There are some Moroccan foods that are so good. You'll never find them on a restaurant menu. Trid is one of those dishes. The simple ingredients of chicken and lentils are elevated with the inclusion of spices and a slow cooking time – until everything falls apart.
Trid is a special dish that is typically made around the time when women give birth. The ingredients are said to replenish what her body loses in childbirth and is rich in nutrients. In Morocco, we also serve trid to celebrate the end of the first half of Ramadan then served with a very big feast in the evening.
Ingredients:
For the Chicken
1 large chicken – quartered or left whole

3 large onions – thinly sliced

1/2 cup olive oil

1 tsp. salt

1 tsp. pepper

1 tsp. ginger

1 tsp. Ras el Hanout (optional)

1 1/2 tsp turmeric (could be replaced by curry powder)
For the Lentils
1/2 cup uncooked lentils

4 tbsp fenugreek seeds – soaked overnight and drained

1 1/2 tsp saffron threads – heated gently and then crumbled (optional)

1 handful fresh cilantro – finely chopped

1 handful fresh parsley – finely chopped

4 1/2 cups water

1 1/2 tsp Smen – (Moroccan preserved butter) (could be replaced by softened butter) Msemen or Trid

1 1/2 batches msemen, shredded – (or trid pastry)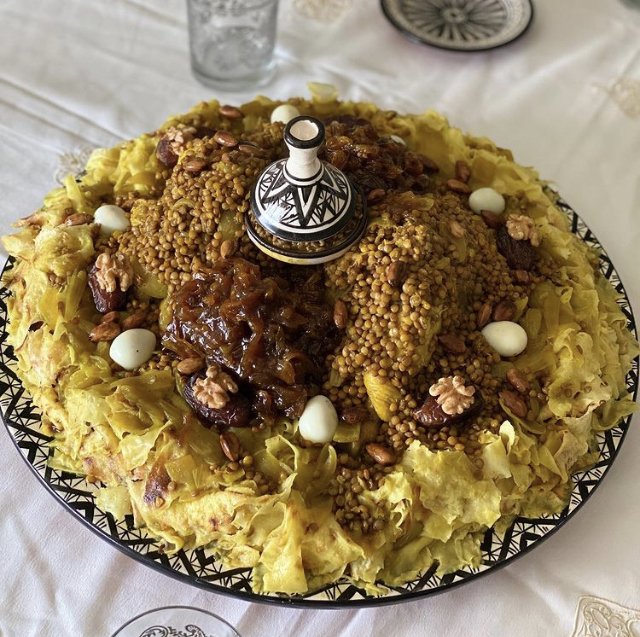 Instructions Ahead of Time
Making and shredding Msemen is best done ahead of time. We tear the Msemen into bite-size pieces while hot off the griddle.

When cool, store in a Tupperware. If prepared more than a day in advance, freeze the shredded Msemen until needed.

The night before (or at least six hours before cooking), soak the fenugreek seeds and lentils in separate bowls of cold water.

Drain when ready to use. (If desired, the soaked fenugreek seeds can be tied in cheesecloth to keep them separate from other ingredients in the pot.)

The night before (or at least six hours before cooking), we should mix the chicken with the onions, olive oil, salt, and pepper, ginger, turmeric, saffron and Ras el Hanout spices in a heavy-bottomed pot.

Stir to coat the chicken well, cover, and leave in the fridge to marinate.
Cooking the Chicken and Lentils
Place the pot with the chicken on the stove over medium heat and cook, covered, stirring occasionally, for about 15 to 20 minutes, until a rich sauce has formed.

Then we add the drained lentils, drained fenugreek seeds, parsley, cilantro, and water.

Simmer, covered, over medium-low to medium heat for about 1 hour, or until the lentils are tender and the chicken is well cooked.

There should be a rich, ample broth in the pot. (If there's not, add a little water during cooking, tasting to be sure that the seasoning is not diluted.)

Taste the broth for salt, afterward, we add the smen, swirling the pot to incorporate it into the broth. If desired, remove the chicken from the pot, then place it under a broiler for a few minutes to brown and crisp the skin.
 Serve the Chicken Rfissa:
Steam the shredded msemen in a couscoussier for about 10 minutes, or until steaming hot and tender.

Spread or mound the hot, shredded msemen on a large serving dish.

Add the chicken to the bed of msemen, after that, distribute the lentils, onions and most of the broth over all.

Reserve a bowlful or two of broth to offer on the side. (If you tied the fenugreek in cheesecloth, empty it into a bowl to offer on the side as well.)

Rfissa is traditionally enjoyed communally from the serving dish, with each person eating from his own side of the plate by hand or with a spoon. And Voilà !
N.B: Smen is a preserved, clarified butter that adds a distinctive flavour to traditional Moroccan recipes such as this one. It can be omitted without too much compromise. However, those familiar with the dish will note its absence.

If your chicken cooks faster than the lentils, we recomend to remove it from the broth and set aside, covered, to avoid it falling apart in the broth. Once the lentils are cooked, we can return the chicken to the pot to heat through for serving

Ras el Hanout: (Literally translating to "top of the shop,"), main ingredient in Moroccan Chicken Rfissa, which is complex Moroccan mix traditionally blends the best-quality spices a merchant has to offer. The recipe varies widely depending on who makes it but tends to include at least a dozen (and often many more) distinct spices including ginger, cardamom, cumin, fennel, coriander, cinnamon, star anise, peppercorns, and turmeric. It is typically used for special occasions, flavouring Tagines or as a rub for meat.
Loubna El Bouchikhi,
Experience Coordinator at The Palais Amani