The Moroccan Tanjia:
A Moroccan Tanjia is a slow-cooked Marrakesh dish that is traditionally prepared in a clay pot called a Tangia. Rather than cook the meat at home, the Moroccan tangia would be brought to an oven adjacent to a "hammam," (Moroccan bathhouse), where it would slow cook in the ashes from the fire used to heat the bathhouse. So tangia, like tagine, is a cooking vessel which gives its name to the dishes cooked in it.
Traditionally, our classic Moroccan tangia is made with lamb, but we have concocted an exquisite version of the traditional Moroccan dish using Monkfish and Capers.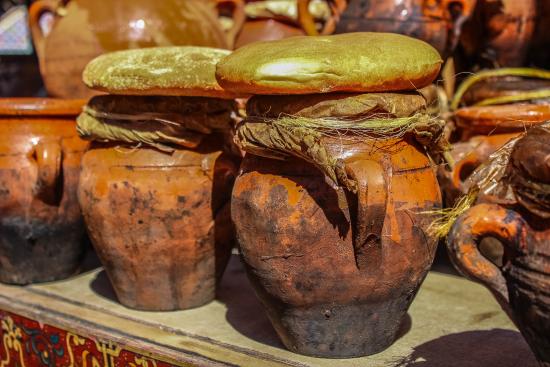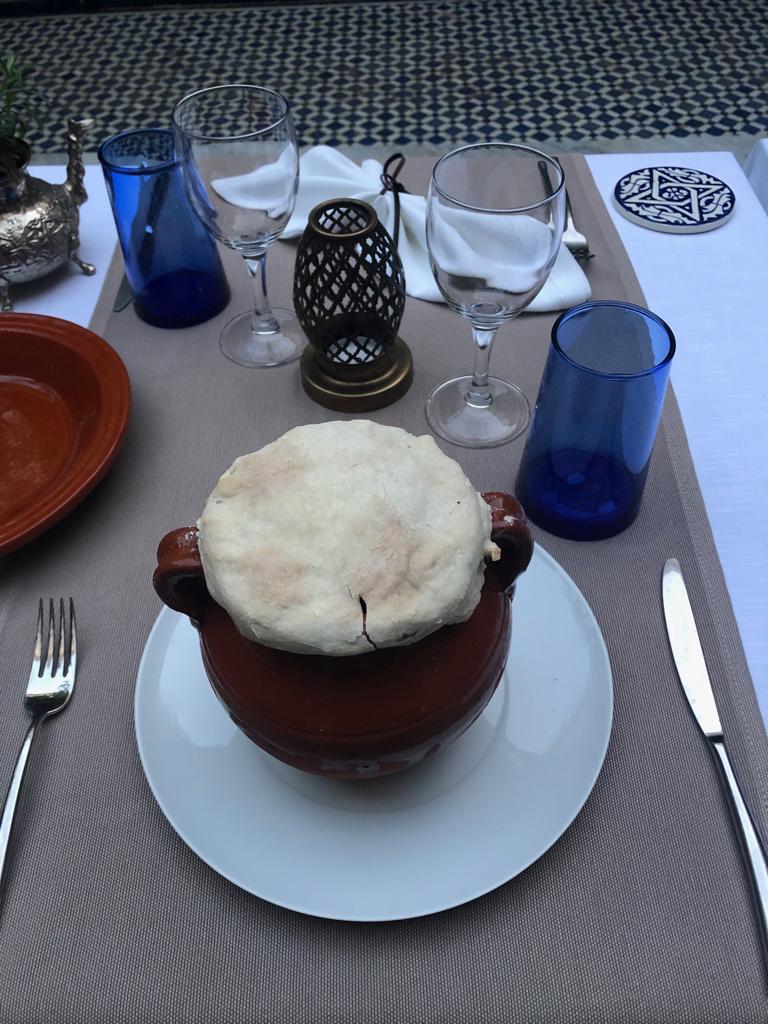 Ingredients:
400 gr of Monkfish cut into 3 cm cubes.

50 gr of Capers

4 Garlic cloves

1 preserved lemon (fresh lemon could be used)

1/2 gr of Safran threads

1 tbsp. of whole-grain cumin

I cup water.
Method:
Wash your preserved lemon with cold water. Take out the flesh and chop (removing pips,) then cut the rind into thin strips.

Put all ingredients in the Tangia jar, then cover the top of the Tangia with a circle of parchment paper. Cover the parchment paper with a layer of aluminum foil, wrapping and sealing the foil snugly to the tangia. Traditionally this would be done with a water paste cover that is molded to the pot, but you can use the paper and foil and ideally tie with cooking string.

Pierce the foil and parchment paper in two or three places with a fork.
Place the Tangia in a cold oven, set the thermostat to 180° C, and turn the oven on. Leave the Tangia for 30 minutes, at which time you can check to see if the fish is adequately cooked.

We serve the Moroccan Tangia on a large communal platter with Moroccan bread (khobz) for scooping up the meat and sauce.
Serve and enjoy!
N.B: If you don't have a Tangia, you can recreate the dish using another oven-proof clay pot, a Dutch oven, or a deep casserole.
We serve The Monkfish Tangia as a Main dish on our Valentin's Day Menu at our Eden Restaurant. If you can't be with us then we hope you try it at home and be transported with your dish closer to our hearts!
Loubna El Bouchikhi,
Experience Coordinator at The Palais Amani