When Seasonal is seasonal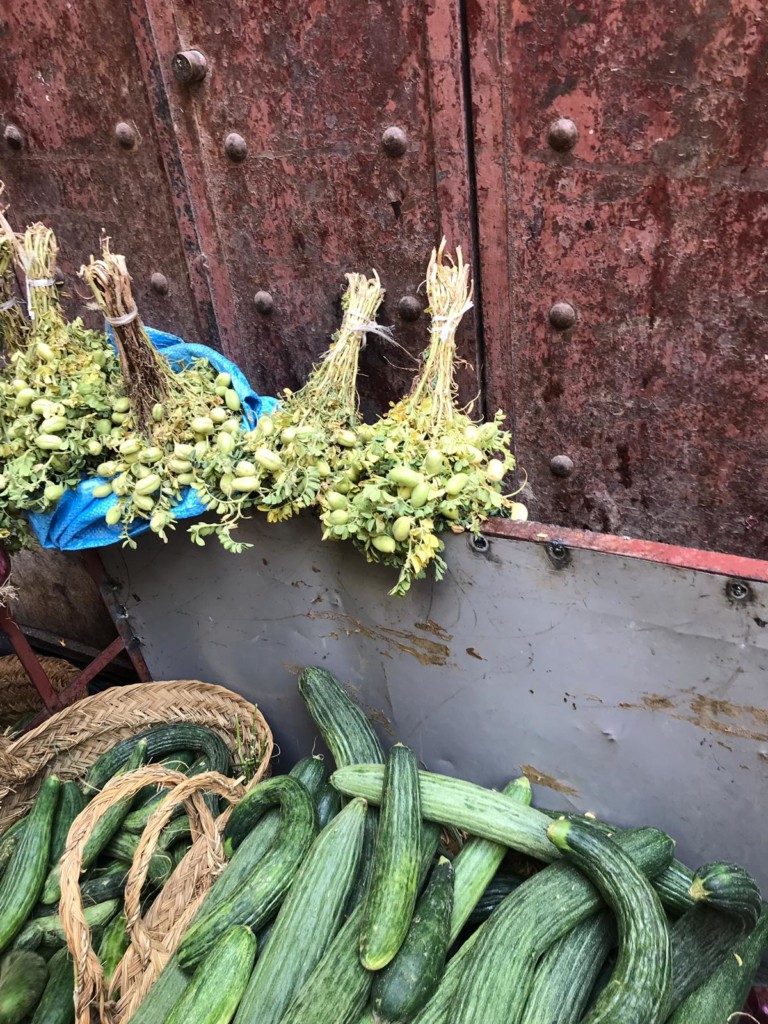 Seasonal is seasonal
We are so lucky to be just inside the medina of Fez. Whenever inspiration for a new dish or menu is lacking, a quick walk in the ancient city sorts that out. This morning when putting the finishing touches to the new Healthy Moroccan workshop for the Fez Cooking School, I dashed out to buy a couple of serving dishes. And on turning the corner, I came across a cart selling the first of this season's chickpeas. Bunches of them, pale green and ready to pod, so good they can be eaten raw! Or shelled into salads, or cooked in a tagine. And that's where the problem begins. Just what do I do with them? I bought them anyway hoping that the choice would become apparent later.
But just what do I do with them?
There were bunches of fresh red onions and Fakouss on the cart too, those long ridged cucumbers. They were also the first of this season's crop. And a variety of cucumber that is sweeter, crunchier, better and in season for a very short time so impossible to ignore. My supper became clear. Diced Fakouss, fresh chickpeas and finely chopped red onion. Add lemon juice and olive oil, salt and pepper and my salad is complete.
Perfect! Or is it?
I could also make a red onion tart by slow cooking the onions. Adding some fresh oregano that was being sold on the cart next door. Or make a cucumber, yoghurt and chickpea dip to go with it.
Or maybe I should roll the chickpeas in a mixture of Ras el hanout spice. I could also deep fry them, and eat them with a Carpaccio of red onion and cucumber. I could also lightly season them with olive oil and lemon.
Hmm, maybe this is not so Perfect. In fact this is torture!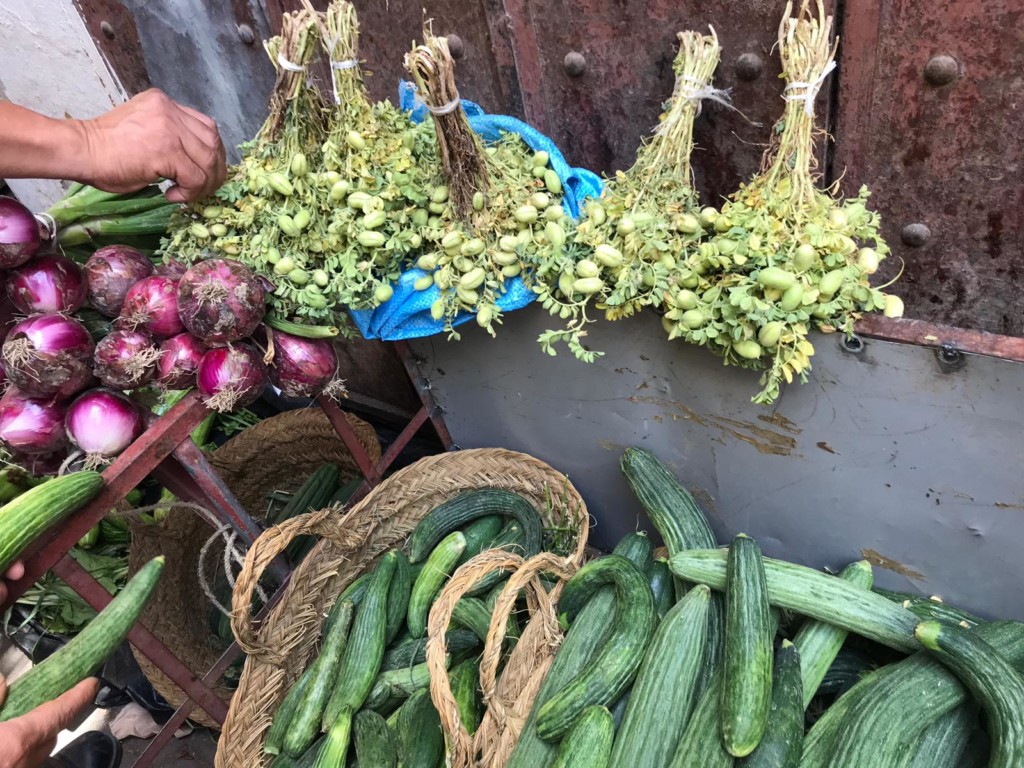 The most difficult thing for supper this evening will be to decide which way to go with these three ingredients. And the choices are endless, and they won't be around for too long, so they simply can't be ignored.
Sometimes it is easier when someone makes the decision for you. So I bought all three, and came back to Palais Amani home of Fez Cooking School and asked the chef to decide.
He opted for roasting the onions, serving them with a fresh chickpea. He preserved lemon and olive tagine. He then suggested that the meal ends with a grated Fakouss and thyme 'fruit salad'. You might think this is curious. However it is a traditional Moroccan dessert that refreshes the palate and is surprisingly delicious.
Who would have thought that you could create so many things out of three items?
But you can and we do, whilst the season lasts.
And if they are no longer in season by the time you get to us to try these tempting things out, don't worry. When they are out of season, the next fruits and vegetables will be on the cart round the corner. They will provide the chefs with as much if not more inspiration. All you need to do is to sign up and come and be inspired too!
JMB June 2019