Moroccan Skhina Recipe:
For Moroccan Jews, the end of the Passover holiday is not complete without a Mimouna feast; and at its centre is Skhina.  We can largely consider Skhina to be the Jewish version of Moroccan tajine. There's one process to make it but with a wide variety of variations. The recipe is also popular for holidays such as Hanukkah and The Mimouna, the feast that marks the end of Pessah.
The Skhina could be translated very freely as "simmered". It is a very rich, complete dish, since it includes chickpeas, meat, potatoes, and eggs along with spices native to Morocco along with the Maghreb countries. The dish is gently simmered from dusk, so the next day at noon. Therefore, the dish should have a smoky aftertaste due to the extended cooking as it is cooked over a very slow fire, taking some 18 hours to complete cooking.
So, this Skhina recipe is definitely the perfect treat to celebrate the beginning of spring and a time full of hope for wealth and abundance in the coming year.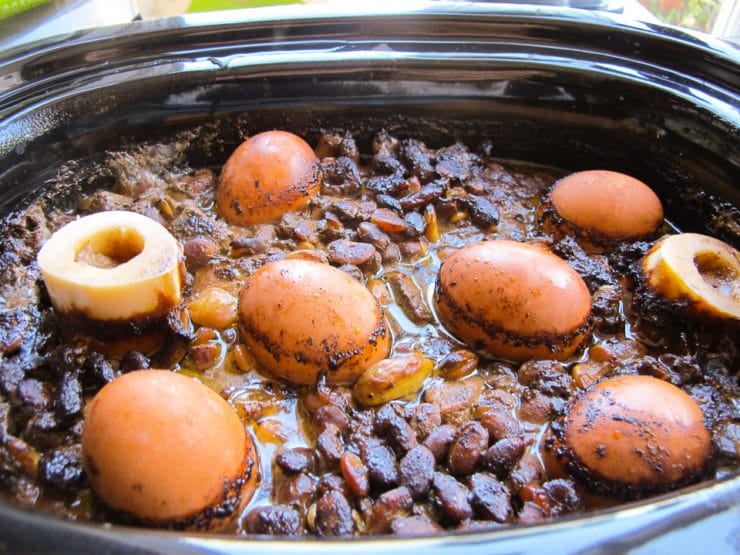 Ingredients:
2 lbs beef
1 potato per person
1 sweet potato per person
1 egg per person
1/2 clove of garlic, separated and skin removed
1 can of chickpeas, rinsed
1 1/2 tsp salt
2 tsp pepper
2 tsp cumin
1 tsp turmeric
1/2 tsp cinnamon
Instructions:
Trim beef roast of any excess fat.
Peel and quarter all vegetables.
Add the beef, vegetables, chickpeas, garlic cloves (do not chop – add whole), and all spices to a slow cooker. Mix well to combine everything.
Then, add enough water to cover the meat.
Nestle the eggs into the slow cooker. Note the eggs should be in the shell and uncooked.
After that, turn the slow cooker to low and cook for at least 6 hours but this can easily be left for 12-15 hours.
As soon as  you're ready to serve remove the meat, vegetables and chickpeas.
Last, you may need to transfer the remaining liquid to a pan, turning heat on high to reduce to a thicker sauce.
 Skhina can be eaten with a fork or bread as with other traditional Moroccan dishes.
Loubna El Bouchikhi,
Experience Coordinator at The Palais Amani