Dreams and passion
Get to know the team members of the Fez Cooking School, their Dreams, and passion. How they live their lives in the medina in Fez, why they are here, and what they aspire to. They are honest from the heart. We are delighted to be able to share them with you and proud that they are part of the team at Palais Amani.
Dada Wafae, our Local Moroccan Chef at The Fez Cooking School:
Dada Wafae, the newest member at the Palais Amani and Cooking Class Team,
Wafae has joined our team as a local Moroccan chef at the Eden restaurant last year. Then, started animating the cooking classes sharing her experiences and cooking secrets.
Food makes you part of something bigger. As taking our guests through the journey of learning about our food and culture will also introduce them to the real version of Morocco.
Therefore Dada Wafae always insists on sharing her tempting recipes with guests seeking the true Moroccan experience.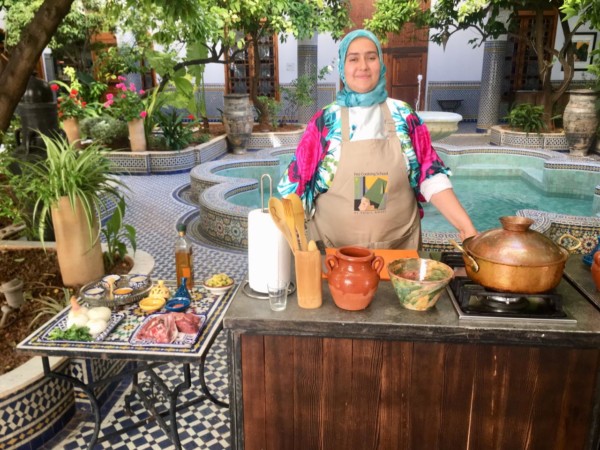 Wafae had always a passion of cooking since her childhood. As she was mainly inspired by her mother and her aunt, who used to be members of the Royal Palace kitchen crew. She loves the use of spices in different ways for each recipe. And also the ability to add her own customized flavors. She is certainly keen to respect the authenticity of each Moroccan delicacy. Yet adding her personal unique touch to every dish.
The Passion of Moroccan Cuisine:
Despite the fact that Wafae did not attend any culinary School. She has been learning about Moroccan cuisine for more than 15 years, working in the most famous and traditional restaurants in Fes Medina. Which is the source of the most delicious Moroccan cuisine.
Wafae believes that the introduction of the art of Moroccan cuisine to our visitors is a true ambassador work to promote Morocco's culture worldwide.
Meet Wafae by booking your online cooking workshop and get transported to the heart of Morocco on a real cultural and culinary Experience.
Loubna El Bouchikhi, Experience Coordinator at the Palais Amani