Moroccan Mrouzia Recipe:
Moroccan Mrouzia Recipe is an old and traditional Moroccan Tagine of meat, raisins, almonds and honey, widely spiced and sticky sweet. It's our must dish to prepare days after Eid al Adha when extra meat is on hand from the Eid sacrifice ritual. Lamb is most popular during this time, but beef or goat meat can also be used. The dish is traditionally reserved for festivities, celebrations, holidays, and similar large gatherings.
The intense seasoning with Ras el Hanout and ginger, along with honey, saffron and added fat also contributes to Mrouzia's unique flavor; as they act as preservatives to make Mrouzia a dish that could be safely stored for a long time at room temperature. Back in the days, when there where no fridges, Mrouzia was our perfect alternative to other methods of preserving meat such as dehydrating meat and cooking in fat.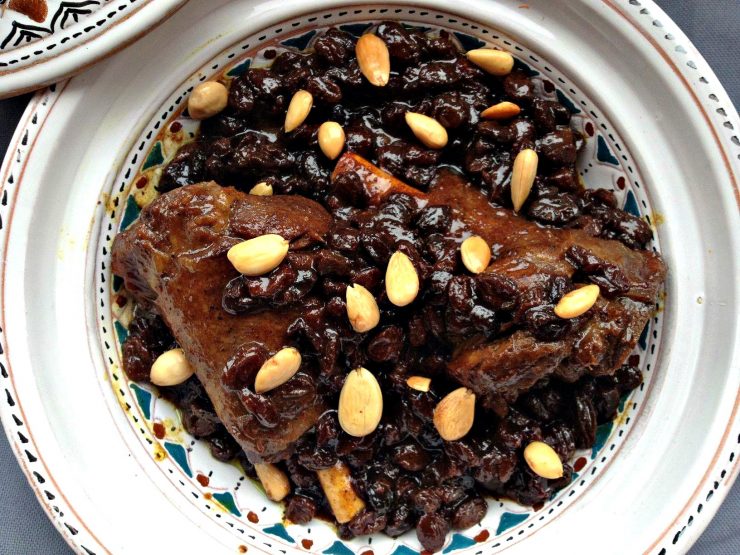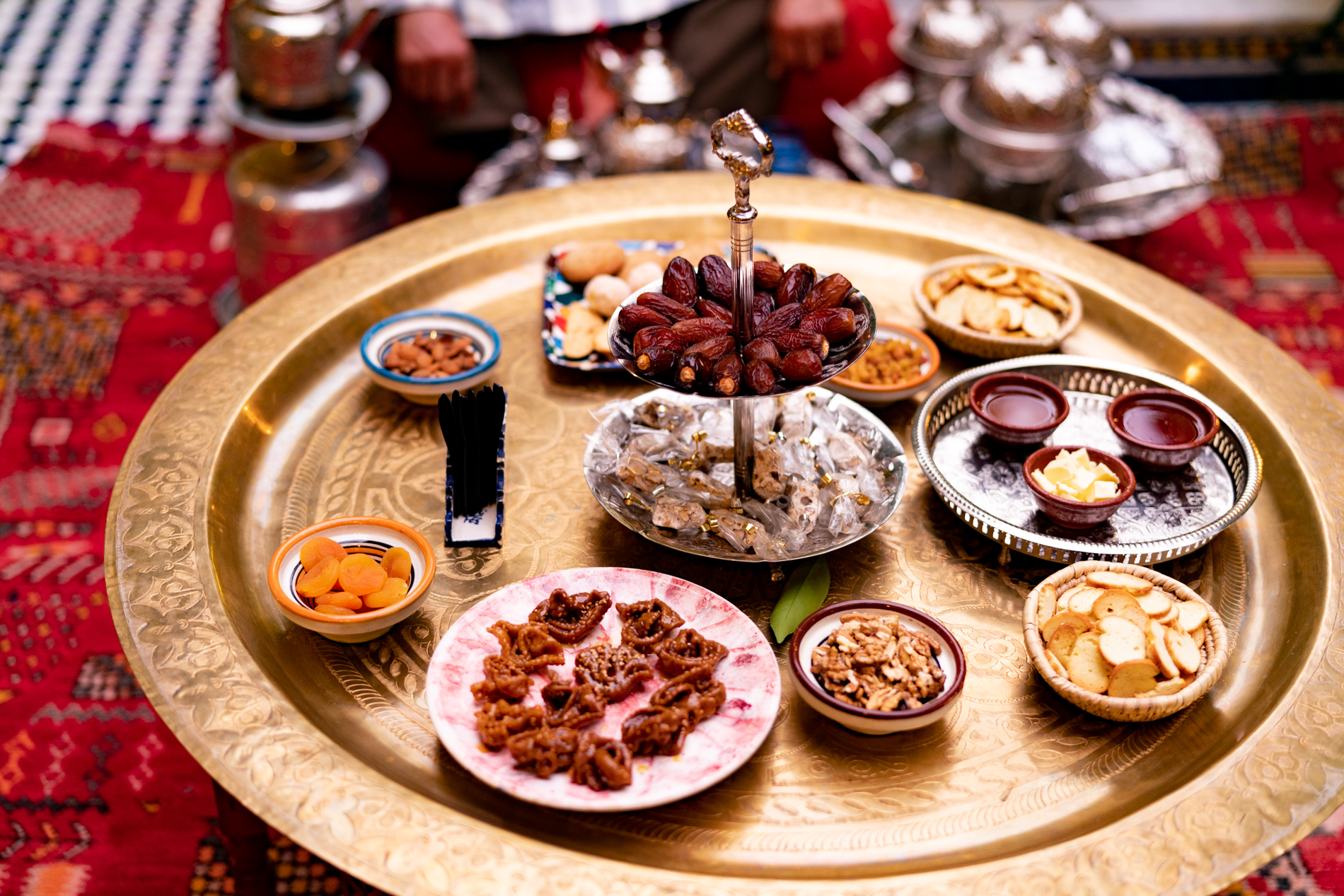 Nevertheless, for us, Fassi people who do not like to squander, Mrouzia was once a dish made from whatever was left over after most pieces of meat had been used for other dishes. Leftover bones with a bit of meat stuck on them would be marinated and cooked for hours until ready to be eaten.
Mrouzia In the Old Days:
In the old days, Moroccan Mrouzia was kept in massive clay jars for at least two months. The reason it lasted so long is because the dish was cooked "confit-style" over medium heat until all the water had evaporated and only oil was left. It was also a fatty version as the fat surrounding the kidney had to be added to the pot as well. As with any meat confit, the fat served as a seal once it had cooled down.
For Moroccan Jews, Mrouzia is used as the name of a spiced raisin jam with walnuts, which is commonly served during La Mimouna Tradition. Although the flavour profile of Mrouzia is undoubtedly sweet, the dish will be properly balanced by selecting raisins that are slightly sour or at least not too sweet.
Ingredients:
1/2 kg Lamb (shoulder, neck or shanks) cut into 3 inch or larger pieces
2 tsp Ras El Hanout
2 tsp ground ginger
1 1/2 tsp salt
1 tsp pepper
1/2 tsp turmeric
Saffron threads (crumbled)
2 Medium onions (grated)
3 Garlic cloves (crushed or finely chopped)
2 Cinnamon sticks
1/2 cup unsalted butter
3 Cups water
1 1/2 cups dark raisins
1/2 cup honey (or to taste)
1 teaspoon ground cinnamon
1/2 cup blanched almonds
Ahead of Time:
Ideally the night before, but at least several hours in advance, we wash, drain, and pat the meat dry. We mix our spices together and rub evenly over the meat. Cover and refrigerate until cooking time.
If you want to fry the almonds rather than adding them to the sauce, we can do that in advance as well.
 Cooking your Mrouzia:
When you're ready to cook, cover the raisins with water and set aside to soak while the meat is cooking.
Mix the seasoned meat in a heavy-bottomed pot with the onions, garlic, butter, and cinnamon sticks. Cover and cook over medium heat for 10 to 15 minutes, stirring occasionally. Add the 3 cups of water, cover, and bring to a simmer.
Cook for about 2 hours, or until the meat is tender. Add the raisins (drained), honey, and cinnamon. If necessary, add additional water in order to cover the raisins.
Cover the pot and simmer for 20 to 30 minutes, until our raisins are plump and the sauce is reduced to a thick, syrup-like consistency.
To Serve:
Discard the cinnamon sticks. Arrange the meat in the center of a serving dish and distribute the raisins, and sauce over the meat. Scatter the almonds over the Mrouzia as a garnish. Serve warm!
Bon appétit at Fez Cooking School!!
Loubna El Bouchikhi,
Experience Coordinator at Palais Amani